What is the Extended Care Health Option (ECHO) and how do I enroll?
ECHO is a supplemental benefit for Active Duty (or activated National Guard/Reserves if activated for more than thirty days) military special needs families. ECHO offers services and supplies that are not available through the basic TRICARE program and will cover up to $36,000 a year in qualifying expenses.
In order for a family to qualify for ECHO, their special needs dependent must:
Have a qualifying diagnosis (as determined by the regional managed-care support contractor)
Be enrolled in EFMP
Families will need to enroll in ECHO via their installation's EFMP office or in some remote cases by calling their TRICARE region's ECHO line for more guidance.
Supplies, equipment and services covered by ECHO may vary from contractor to contractor and year to year.  Families need to have their doctors or therapists write a referral showing the need for said supplies or equipment.  It is sent first to TRICARE, then to ECHO for approval or denial.  If families have a difficult time getting their referrals approved, they can contact their region's ECHO line for more guidance.  ECHO also offers case management for some conditions/disabilities and families can request this by calling their region's ECHO line.
What benefits can ECHO offer my family?
Active Duty families must be enrolled in ECHO for their children to receive ABA services through the Autism Care Demonstration (ACD) discussed in the next section.  However, ECHO itself does not pay for ABA. For any month that the ECHO benefit is used, families must pay a cost-share that is pro-rated based on the Active Duty member's rank.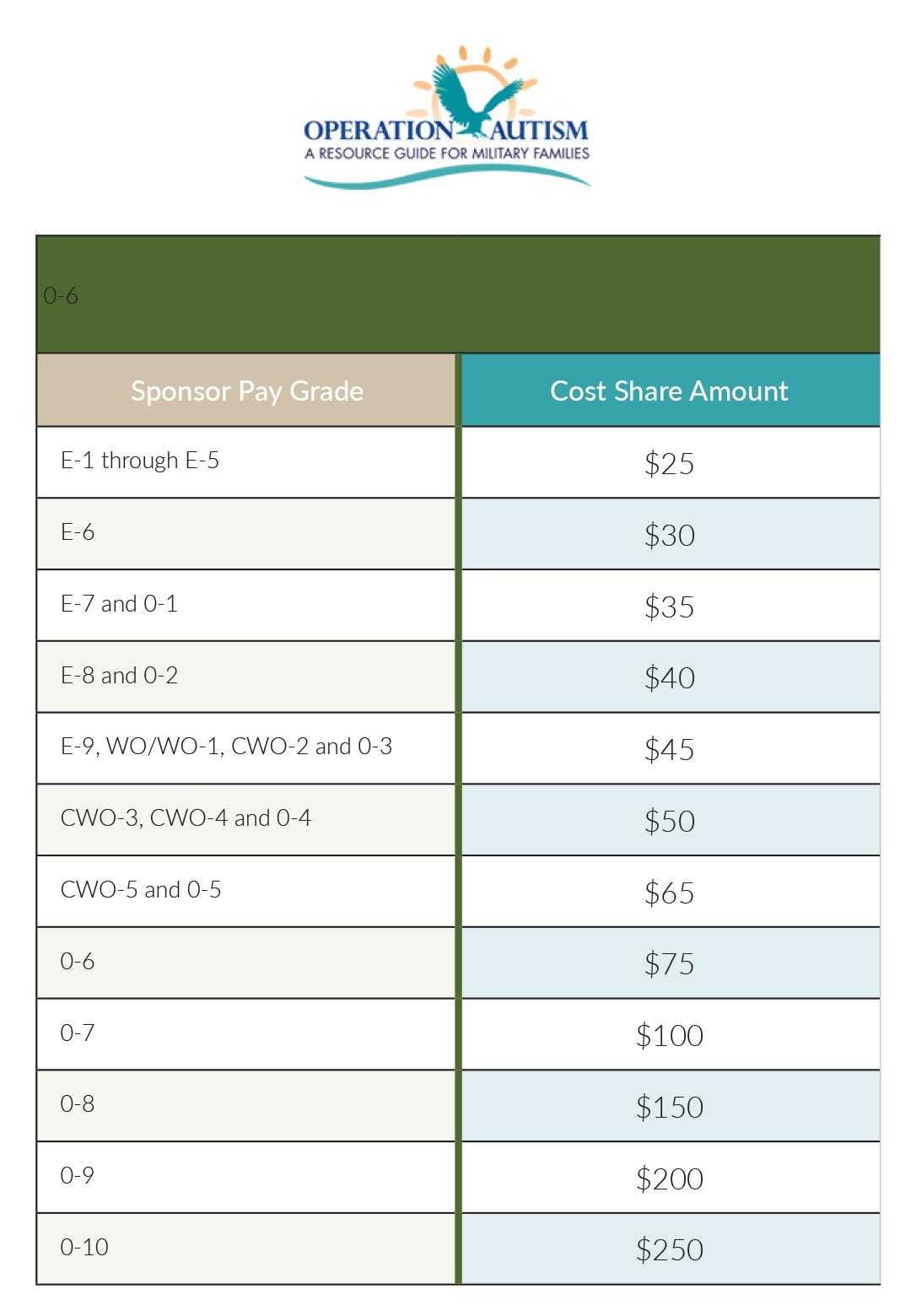 ECHO's financial assistance can be used for a variety of services and equipment:
Assistive services (e.g., qualified interpreter)
In-home respite care services (please see section below)
Home Health Care (please see section below)
Medical and rehabilitative services
Training for assistive devices
Special Education, including Applied Behavioral Analysis therapy
Transportation in limited circumstances
Institutional care when a residential environment is required
Equipment
Durable equipment, including adaptation and maintenance
Assistive technology devices
What is included in ECHO Home Health Care and ECHO Respite Care?
In addition to addressing the needs of the Exceptional Family Member (EFM), ECHO addresses the needs of the caregiver. In most cases, this involves rest or time away from the "care environment." To provide caregivers this time, ECHO's additional benefits include ECHO Respite Care and ECHO's Home Health Care. Respite care provides relief for caregivers of EFM, including family members with an ASD.
Notes on ECHO Respite Care:
ECHO respite does not cover siblings and is not to be confused with EFMP respite, which is offered through some of the military's branches.
ECHO beneficiaries qualify for 16 hours of respite care a month, which are to be administered in the home by a TRICARE authorized home health agency. During respite hours, the caregiver may leave the home.
Respite care is authorized only when the beneficiary is receiving some other ECHO benefit during the same month.
Notes on ECHO's Home Health Care (EHHC):
EHHC includes extended home health care and respite care for caregivers of an EFM who is homebound.
Under ECHO's Home Health Care (EHHC), licensed or registered nurses provide skilled home health care for more than 28 hours a week.
Under EHHC, respite care may allow for a maximum of eight hours, five days per week, which may be used as a sleep benefit.
Respite care under EHHC cannot be used during the same month as ECHO's respite care.
Members should speak to their regional contractor or TRICARE Area Office to determine their eligibility and maximum monthly limit (cap) for EHHC home-care benefits
Will ECHO benefits follow my family from one location to another?
ECHO benefits do not automatically transfer when a family's active duty sponsor is reassigned. Families must obtain new ECHO benefit authorizations before receiving services at a new location. To ensure a smooth transition, families should contact their regional contractor, local MTF, TRICARE Area Office, or case manager before moving.