Creating a Record System
Raising a child with autism often entails keeping track of important records that help track the child's progress over time, including diagnostic materials, evaluations, progress reports, Individualized Education Program (IEP), special education procedures and safeguards, general paperwork, etc. To avoid getting overwhelmed and/ or losing important documentation, creating an organizational system to help keep track of your documents is critical.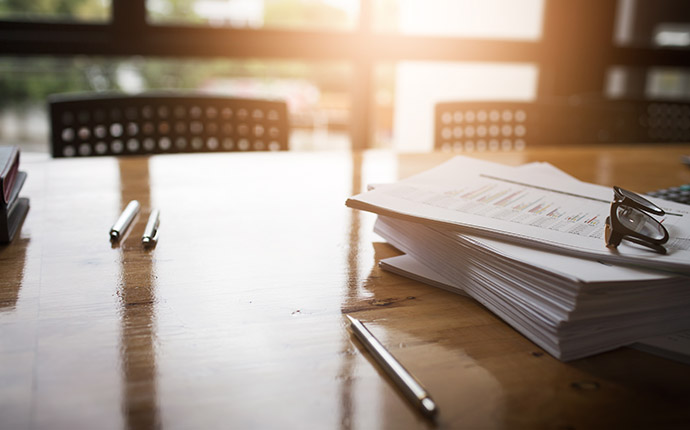 The key to effectively managing the unrelenting flow of paper and information is to create a system that works best for you:
Quickly assess what needs to be kept and what can be tossed.
Quickly store the materials in a location that can be easily referenced if needed.
Archive documents/information that is no longer necessary for immediate referencing but must be kept on file.
There are two basic steps to keep it all organized.
Step 1: Establish a system that works for you and your family.
Step 2: Set up an easy way to maintain that system. The more routine you can make your maintenance system, the easier it will be to keep it up as time passes.
Different families have different preferences about organization. You may wish to modify the following recommendations to create a better fit for your family.
The following documents should be kept in your system. You can download and edit a sample checklist by clicking here.
TRICARE, Insurance or other Funding Source Paperwork:

Documentation provided to or from a given funding source until the given issue is resolved and you have documentation of the resolution.
Notes from conversations with insurance representatives (note the date, time, and name of the person with whom you've spoken).
School Documentation:

Each final, signed IEP

Your notes, copies of notes taken by school personnel, and documentation of Prior Written Notice

Evaluation reports (e.g., psychological, speech/language, occupational therapy, and educational assessments)
Special education eligibility and evaluation summaries
Other paperwork (e.g., notice of action refused, written requests you've made)
Report cards and progress reports
Notes from important conversations with school personnel
Other paperwork (e.g., notice of action refused, written requests you've made, notes from important conversations with school personnel)
Therapy Documentation: (this section refers to private, not school-based, therapies)

Evaluation reports
Progress Reports

Including graphs of important data

Home program documentation (when applicable)
Other paperwork

Any formal letters provided by therapists
Notes from important phone conversations
Other Medical Documentation

Medical Evaluations

Diagnostic evaluations are particularly important and helpful

Other paperwork

Referral documentation
Formal letters provided by medical personnel
Notes from important conversations with medical care providers
Information on specific medical procedures (e.g., asthma plan, seizure plan, feeding procedures)
Downloadable Tool: Documentation Checklist
Keep a record of documents for as long as you can, especially while your child is school age. Though it may be rare that you will need old documentation, it is better to be "safe than sorry."
As a general rule, evaluations are valid for about three years (some assessments differ). If you believe the information in an evaluation report is no longer accurate for your child, it is important to obtain a current evaluation.
How Do I Set Up My Record System?
There are two basic components of the system:
Reference—This component includes all information that is current and may be helpful/necessary at key times (e.g., IEP meetings, new evaluation). Examples of documents include the current IEP, current evaluations, and current progress reports.
Archive—This component includes all information that you should keep but will not need to quickly reference.
Keep it as simple as possible. Your organization system will mirror the bullet points in the "What Documents Should I Keep?" section. Your archival system will most likely stay in your home somewhere, whereas your reference system will be portable. (Imagine walking into your next IEP meeting with all of your child's current documentation right at your fingertips, accessible within seconds).
You will need:
One 3 inch, loose leaf, 3-ring binder or a portable file case
10 notebook dividers (clear tab if possible) or 10 file folders
3 different colored pens (you may choose to print the labels instead of handwriting them)
3-hole punch
One loose-leaf folder or an additional file folder
Documentation for the current academic year. (You may find it helpful to run the system based on the school year calendar as opposed to the IEP and replace the IEP when needed. For example, some children have an IEP running from November to November even though the academic year begins in August/September).

Current IEP
Most recent school and private therapy evaluations (see above)
Progress reports and report cards for school and private therapies
Any current notes or other paperwork (see "What Documents Should I Keep?" section above)
Any current funding source documentation
Steps:
The following list is of section headings. Write or print one per tab. You will see a one letter prefix for each section, as follows:

S – IEP
S – Evaluation
S – Progress
S – Other
T – Evaluations
T – Progress
T – Home Program
T – Other
M – Evaluations
M – Other

Insert tabs into the dividers, or if using files, place file labels on the folders.
If using a 3-ring binder, make sure all documentation has been punched with the 3-hole punch.
As you move through your stack of paperwork, sort documents behind the corresponding divider (or in the corresponding folder).
Place your now categorized and organized stack of dividers and paperwork into the notebook (or the files into the file case).
The additional folder is used to keep TRICARE and funding source documentation.
You will need:
One hanging "box bottom" file pocket (at least 3 inches wide) for each year since your child has been diagnosed
Pen (or use your printer)
Clear tabs and inserts (should come with the hanging file folders)
All documentation and paperwork since your child's diagnosis
Something in which to place the hanging pocket files (e.g. file cabinet, file box, etc.)
Steps:
Label each file pocket with one academic year (e.g., 2017-2018)
Begin sorting through the paperwork you've accumulated since your child's diagnosis and place each document in the corresponding year's file pocket. In future years, your system will be even more organized.
In future years, you will be able to lift the documents from the reference system (leaving the dividers in the notebook) and place them in a new file pocket. The archival system is a bit simpler than the reference system, but you won't be accessing it nearly as often.
When your child receives an updated evaluation, place the old evaluation in the file pocket year that corresponds with the evaluation date (i.e., an evaluation completed in April 2016 will go in the archive file labeled 2016–2017.)
How Do I Maintain the System?
Maintenance is easy once you have established a routine system, as outlined below.
As you receive new evaluations, place the old evaluation in the archive system file pocket for the year during which the evaluation occurred. Place the new evaluation in the reference 3-ring binder behind the appropriate School, Therapy, Medical Evaluation, or TRICARE divider.
When you receive the final IEP, place the previous IEP in the corresponding archive file pocket for that year. Place the new IEP in the 3-ring binder behind the School-IEP divider.
At the beginning of each school year, remove the contents of the 3-ring binder (reserving the dividers and any evaluations that are still current), and place them in the corresponding file pocket. Place the dividers and current evaluations back in the notebook.
There are many possible variations on this system that might make it more useful to you. This system requires a few hours to set up but minutes to maintain and at minimal financial cost. Parents usually find that there is a net gain in time, as they spend less time looking for critical documents when it is all organized. Hopefully, this system provides you with the same benefits.